Hello! Ok I'm back for the next instalment of my whirlwind tour of the United States. We pick up from my last stop in Georgia with my adorable friend
Jenn
~ us two girls flew up to Newark, New Jersey and caught a cab in to Manhattan.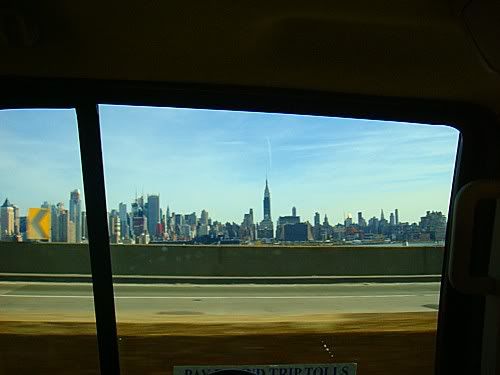 That's my first view of New York City. Wowzers.
It was a place I felt like I had been before, it was very familiar and there was just this great feeling I had about it. I recognised landmarks from films and TV shows, and even got excited about seeing fire escapes on the front of apartment buildings. It's just so New York!


To me, this city was amazing. Just awesome and huge and overwhelming and fun and buzzing and alive. It felt like a monster sized Melbourne ~ grey, historical and built on a grid system. The city area of Melbourne, however, is like one teeny tiny little section of Manhattan. I felt right at home, and felt totally safe.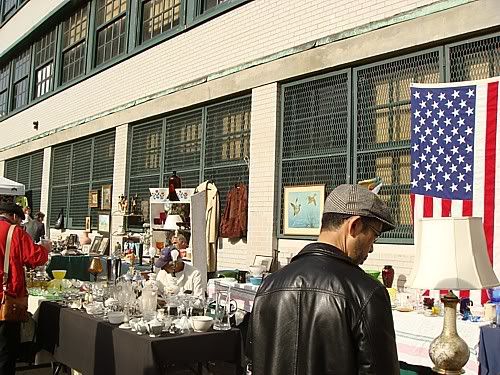 The day we landed we had some luck and stumbled upon a sweet flea market a few blocks from our hotel! We had planned to go to Central Park, only two blocks from the hotel, however....
We had no idea that day was the New York City Marathon! Tens of thousands of people competed, and we got caught up in the whole buzz. It was incredible!!!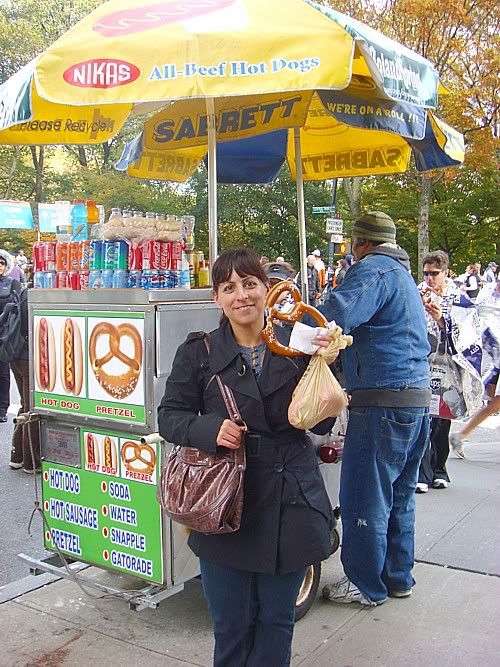 I did try a New York Pretzel with mustard from a street cart. It was as big as my head, lol! I thought pretzels were tiny things that fit inside your hand, hahaha! It was good, but very smokey. It was great to taste it, but I didn't eat any more while in NYC, lol.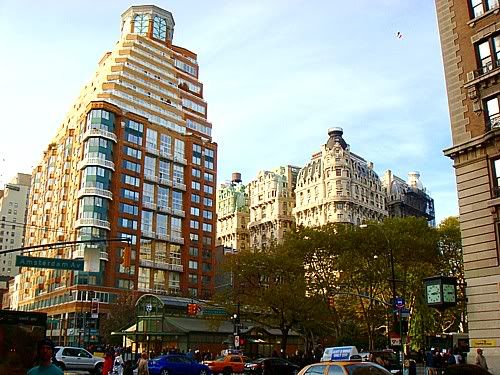 One of the things I loved most not only about New York, but the whole entire USA, was the architecture. And how you could almost pick where you were in the country by looking at the buildings and homes. Above is unmistakably New York. I love it!


In our stumbling that first day, we also stumbled upon one of the famous
Magnolia Bakery
stores! It was on our to-do list so that was a great bonus! I got the very last Red Velvet cupcake they had, and it was soooooooo worth getting. Fab-o!


A great place to eat was
Rosa Mexicano
. They are known for their pomegranate margaritas (wow like rocket fuel! I think they were 90% tequila 10% non-alcoholic stuff!). They're also known for their table side guacamole making! They bring a cart over to you, and make the guacamole fresh to your liking. Delicious!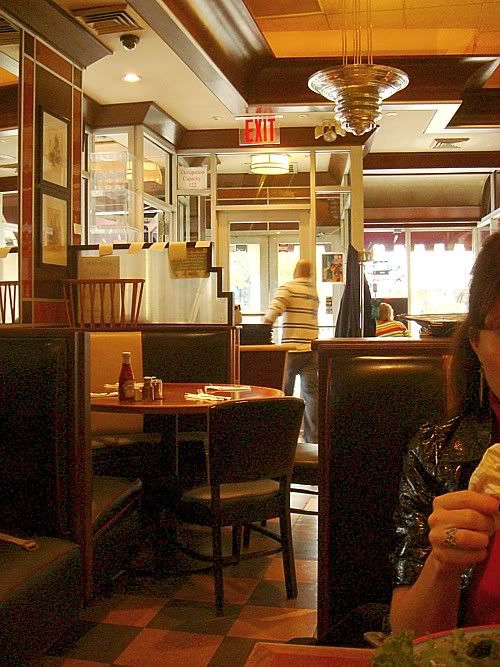 I got to also experience an American Diner ~ right across from our hotel. Many a breakfast/brunch/midnight snack were had here!!
Their candy section was super cool. They had these huge soldiers made of jelly beans. Imagine being that person there putting on each individual jelly bean. These things were up to the ceiling high....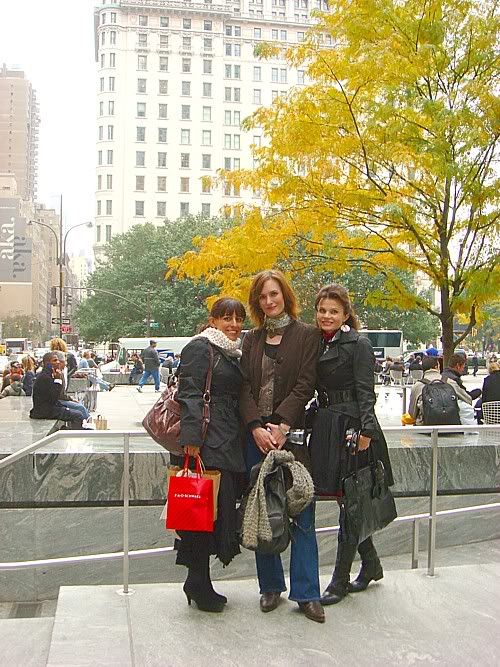 Bethany
was a delight to meet. She's so elegant and graceful and beautiful. A warm lovely kind soul. I'm so glad she and her family made their way from Rhode Island that day. It was great meeting you guys!!! You can catch Bethany's blog post on
her NYC adventures here
.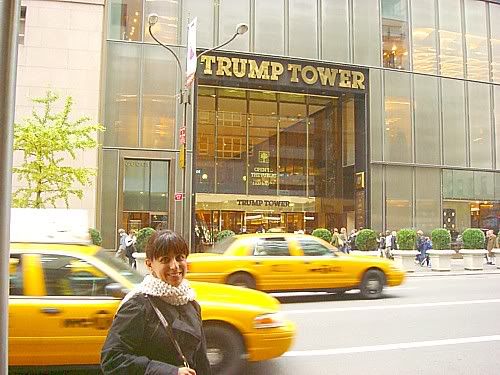 Further up 5th Avenue, "You're Fired!". Haha, couldn't resist!

The Disney Store, three floors of fabulousness....
Rockefeller Plaza became known as Election Plaza since it was a day or two before the election. Everything was lit up all cool like a US flag. Loved it!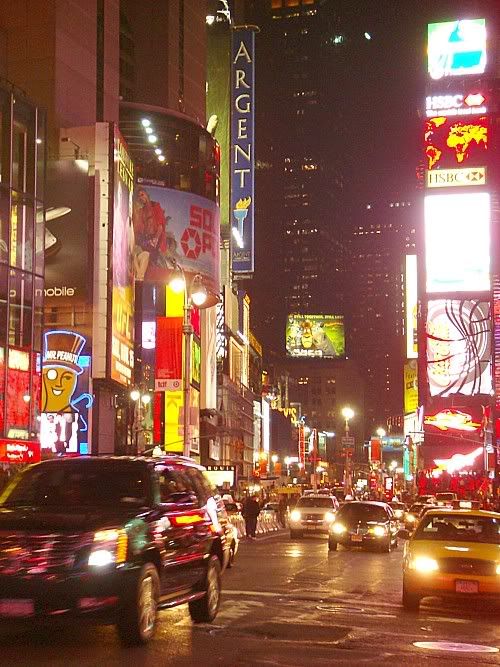 Times Square ~ no Naked Cowboy to be seen sadly :(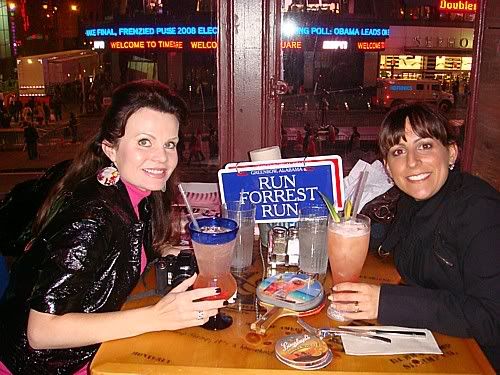 Oh the candy section in Toys R Us.... jaw dropping....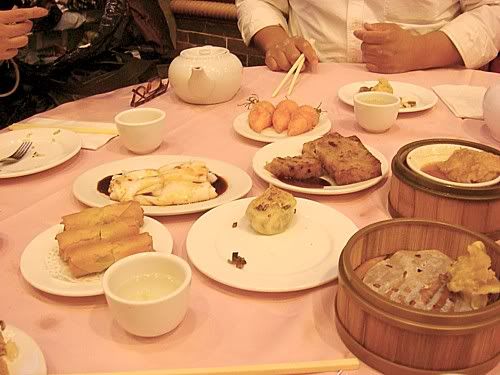 Another day we met up with the wonderful and super fun Barbara Jacksier and her friend Chitsou in Chinatown for Dim Sum.
Jenn was kinda worried that she wouldn't know what each dish was. I kept reassuring her everything would be fine ~ and the first dish to come out was..??? Chicken Feet. Ummm.... no thanks.... Even our Chinese friend Chitsou wasn't a fan. They could have brought out anything else first, but it had to be the chicken feet! No, we didn't eat it.
But other than that, as they say, "when in Rome..." it was all delicious, whatever it was!
I was also lucky enough to be surprised while having Dim Sum, to get a phone call in the restaurant! It was
someone who wouldn't tell me their name
.... and they said, open up the parcel and you'll know who I am.


Barbara then passed me a package and to my delight it was a beautiful rose painting that I won on Jo's giveaway! Jo was so lovely on the phone, she sounded so happy and vibrant. I was so excited to receive this, Barbara took this next photo of me while I was talking with Jo.


I am so honoured to own this beautiful rose painting, created especially for me. She also sent goodies for Leroy (who has promptly eaten them all already!). Thank you Jo!

No visit to Chinatown is complete without a stroll down Canal Street to see some very creative interpretations of designer bags etc. This day was such a buzz and a great way to experience another part of New York that we probably wouldn't have tried, without an ex-local (Barbara) and a current one (Chitsou). That's Barbara there on the right above. She has more photos of our adventures that day on her blog here.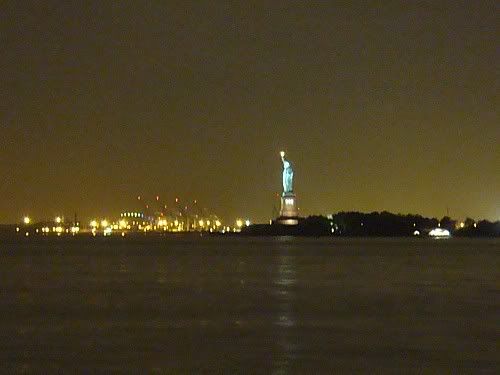 What a whirlwind day that was. We got to also experience Soho (super cool), Anthropologie (WOW, I can't tell you how much I loved that store) and Pearl River Trading Co



We were driven out on Election Night to a trendy Downtown bar, by Barbara's friend Scott. The ultimate tour guide from New Jersey ~ along the way he made sure Jenn and I were able to see the Statue of Liberty, and the Brooklyn Bridge!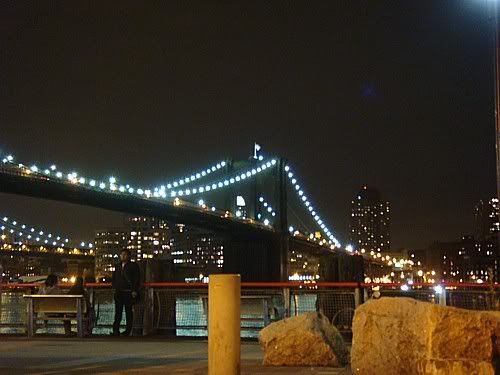 We got to see Rupa and the April Fishes perfom live that night. That's Rupa above, and Barbara's friend Chitsou on the left. They were really cool!!!



After the election result was announced we headed off to Union Square and I got this photo above, along with press photographers beside me. Ironic that this is the place we happened to see Fred Armisen walk past! It was like New Year's Eve in New York that night. I was so lucky to be there during any election at all, let alone a historic one.
Jenn and I made sure we found Tinsel Trading. Wow. Wow. Wow. I think that about sums it up!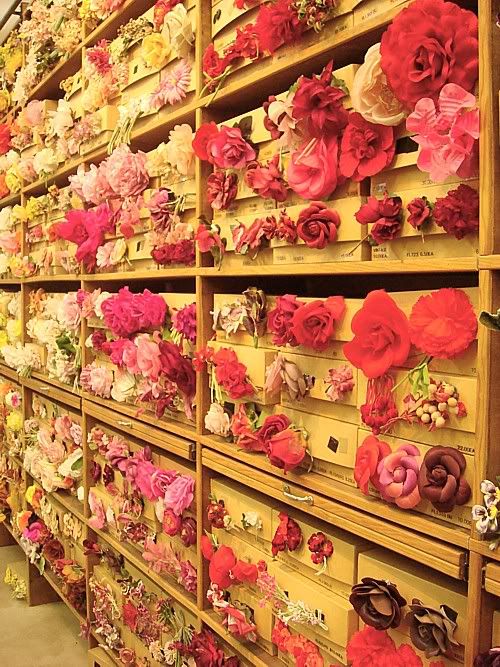 And on our 2nd last night there, Jenn made sure I got to see my first Broadway show, and what a show it was, Wicked!!! I loved it of course. The costumes had me going ga-ga, and being in the third row, we got to see the incredible detail in them. Wow. Now I want to see it here in Melbourne so I can see it again!


Now, you might be wondering, where is Central Park?
Well, it was one of my very favourite parts of New York and I got some beautiful photos that day, so it's getting a post of its own, next time.


Hope all my US friends had a wonderful Thanksgiving!


Bye for now,